5 Things You Need To Know: The Duchess Non-Alcoholic Gin & Tonic
Mar 21st, 2018
1. Each serve contains only 39 calories!
Yes really! To put that in perspective the average calorie content in a serving of juice is 115 per 250ml…definitely no contest there
2. It contains everything you need to make gin
As well as other botanicals typically found in gin such as Orange Peel, All Spice, Star Anise, Cardamom and Cloves, the base of The Duchess is made from re-distilled juniper berries for all of the gin taste yet none of the alcohol content.
3. It can also be used as a mixer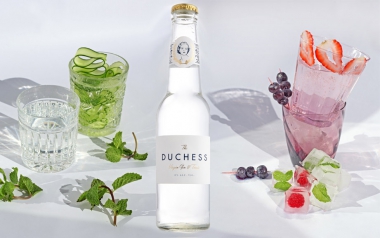 Switch up your serve by adding sweet or savoury ingredients such as cucumber, rooibos tea, lychee juice, ginger syrup, peppermint and even gin – the possibilities really are endless!
4. The name originates from the birthplace of gin
The Dutch are well known to have invented gin, so The Du(t)chess is an homage to both them and the more discerning customer that they're hoping to attract.
5. Stevia is 150 times sweeter than sugar!
Which is why a little goes a very long way…
More posts: