El Dorado Master Distiller, Shaun Caleb, hosts series of events in the UK
Feb 20th, 2018
Shaun Caleb, the Master Distiller from Demerara Distillers in Guyana, the producers of the multi award-winning El Dorado Rum range, will be visiting the UK for the first time at the end of October for a series of planned events which will include a seminar at RumFest, a consumer tasting session with the Whisky Exchange and a masterclass at London's newest rum bar, Burlock.
On Saturday 22nd October from 16.15- 17.00, Shaun will be hosting a session at RumFest where he will be talking through the sensory aspects of El Dorado Rum along with a tasting of the core range from El Dorado 3 Year Old up to El Dorado 21 Year Old.
On Monday 24th October, Shaun will be paying a visit to Burlock where he'll be talking all things El Dorado.  The masterclass will be held between 6:30-7:30pm and Shaun will be presenting a wide selection of El Dorado rums, including those from the Rare Collection, as well as cocktails being served at £5 for the duration of the evening. To register your interest, click here.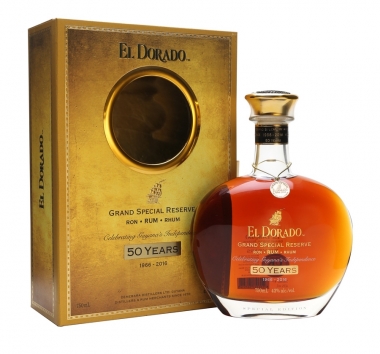 In conjunction with the Whisky Exchange, Shaun will be hosting a consumer masterclass on Tuesday 25thOctober at Browns in Covent Garden where he'll be bringing tasters of the El Dorado Grand Special Reserve 50th Anniversary Special Edition Rum, created to mark Guyana's 2016 celebrations of the Golden Jubilee Independence, along with selected expressions listed on the Whisky Exchange website.  Tickets are available to purchase here.
The Special Edition is a blend of rums that have been aged in oak casks for up to half a century.  Two-thirds of the 50th anniversary blend was distilled on the vintage double wooden pot still, and laid down in oak barrels in 1966. The Special Edition blend was then added to by using almost equally aged rums in the style of the historic Albion, Skeldon and La Bonne Intention Estates which were all distilled and aged in oak between 1966 and 1976; these contributed 25%. A final 10% of the 50th Anniversary Blend is drawn from rums aged in 1983, the year Demerara Distillers Ltd. was incorporated.  Only 600 bottles are available world wide.
The El Dorado 50th Anniversary Special Edition is presented in a distinctive crystal decanter nestled in a beautifully crafted presentation box. Each bottle is individually numbered, and is adorned by a specially commissioned 50th Anniversary Gold Medallion that was crafted by Guyanese jewellers in 18 Carat premium Guyanese Gold, a tribute to the country's rich mining history.
El Dorado Grand Special Reserve 50th Anniversary Special Edition Rum is available to purchase through The Whisky Exchange with an RRP of £2750.
More posts: