Four Pillars Gin Releases Spiced Negroni Gin in the UK
Mar 6th, 2018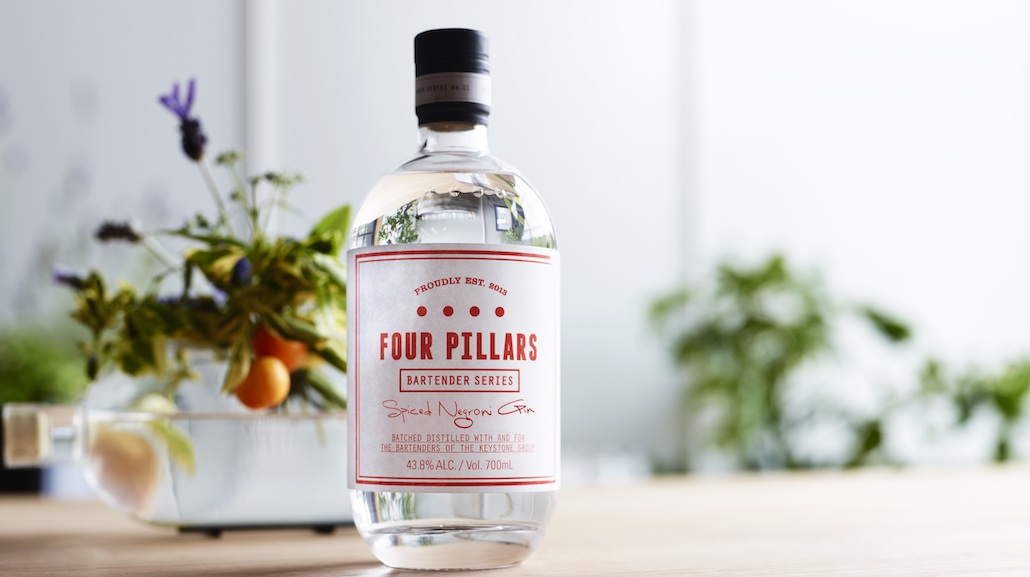 The award-winning Four Pillars Gin, who are based in the Yarra Valley in Australia, has for the first time released their Spiced Negroni Gin in the UK, a gin created especially to make Negroni cocktails.
The Spiced Negroni Gin is part of the award-winning Four Pillars Gin Range which includes a Rare Dry, a Navy Strength and a Bloody Shiraz Gin.
Since their launch in 2013, Four Pillars has taken the gin-world by storm by creating simple world class gins; their Rare Dry and Navy Strength won more golds combined, than the Aussies did in Rio 2016 and the distillery continues to deliver serious new gins with a twist.
Four Pillars Spiced Negroni Gin is the first in their Bartender Series of gins. It was the result of a conversation in 2014 between Cameron MacKenzie, a co-founder and the Master Distiller of Four Pillars Gin and one of Australia's top bartenders, Jason Williams.
Together, they wanted to create a gin specifically for the Negroni – something to cut through the Campari and vermouth. As the Negroni has always been a favourite at Four Pillars, Cameron jumped at the chance to make the first collaboration in their Bartender Series a tribute to the very definition of a perfectly balanced cocktail.
Four Pillars Gin source the best botanicals from home and abroad which are an equal mix of local and exotic. The local botanicals include Tasmanian pepper berry and lemon myrtle, and the exotics include juniper of course, plus cardamom, star anise and coriander seeds. Perhaps the most interesting is their use of whole oranges. It's quite unusual to use fresh stuff in gin but Australian citrus is highly aromatic, and supports the spicier botanicals.
They make and bottle every batch carefully and with love, and they are always playing about trying to make different, idiosyncratic, delicious gin-based products. They waste nothing – the oranges are sent away to make marmalade and the spent botanicals are fed to their own "gin pigs".
Four Pillars Spiced Negroni Gin is a highly aromatic, rich and spicy gin with great power and intensity.  Firstly, they use their base botanicals and up the amount of Tasmanian pepperberry leaf and cinnamon. Then they added an exotic West African spice called Grains of Paradise; one of the most unusual spices in the world, with clove and Sichuan characters.  Although very powerful, the spice tends to glow rather than become hot. They also to use local, organic blood oranges in the botanical basket, as well as some ginger.  These wonderfully fragrant fresh botanicals help lift the spice to another level.
Four Pillars Spiced Negroni Gin is of course designed to be used in a Negroni, but it can be enjoyed equally as well in a G&T.
Simply add 50ml of Four Pillars Spiced Negroni Gin in a tall glass filled with ice, add a slice of blood orange, or a juicy orange if not in season and top with the tonic of your choice.
Here's how to make a Negroni with Four Pillars Spiced Negroni Gin:
Ingredients:
30ml Four Pillars Spiced Negroni Gin
30ml Campari
30ml sweet vermouth – we like Cocchi Vermouth di Torino
Orange peel
Method:
Pour ingredients over ice in an Old Fashioned glass. Stir for 5 to 10 seconds. Twist the orange peel over the drinks and place it in.
Variations:
Gin & It – drop the Campari from this recipe and you've got yourself a sweet, old school Gin & It.
Contessa – For a lighter and brighter version of the rich, red Negroni, simply replace the Campari with Aperol to make a Contessa
White Negroni – Use Lillet Blanc instead of a red vermouth, and Suze as the bittering agent instead of Campari
Four Pillars Spiced Negroni Gin (43.8%abv) 700ml is available to purchase through Amazon priced at £42.27.
More posts: