Mr Black celebrates Int. Coffee Day with a selection of specially crafted cocktails
Feb 17th, 2018
On Saturday 1st October, otherwise known as International Coffee Day, the world celebrates its love for the fuel to our mornings; the pick me up of our inevitable afternoon slumps and more recently, the perfect base for the evening cocktail.
The team at Mr Black has partnered with six of the best cocktail bars in town to deliver some truly memorable drinks for lovers of coffee ahead of International Coffee Day.
The limited edition drinks were carefully crafted by skillful Baristenders (barista/bar tenders) at some of London's most notoriously creative and highly commended bars and will be available until International Coffee Day.
Read on to find out who Mr Black has partnered with, what drinks they'll be serving and why Alix Nardella, the Mr Black Brand Ambassador, thinks you should pay them a visit…

Sager and Wilde- "Black Cherry"
Ingredients: Mr Black, Amaretto, lime juice, Maraschino, Top with cherry juice.
Pop into Sager and Wild in Bethnal Green to pop this cherry.
A beautifully crafted number created by Marcis Dzelzainis. An accessible drink where the sweet tart cherry and bitter coffee notes work in harmony. The Amaretto goes hand-in-hand with the bitter flavours and Maraschino lifts the cherry notes – truly special.
 £8.50.
"This one's brilliant because it sounds so old school", says Alix. "It's super refreshing and has a bittersweet finish. A perfect drink for the end of summer."
The Blind Pig- "Hard Wired Cherry Cola"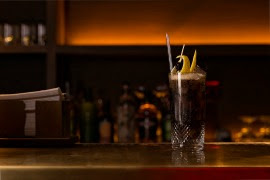 Ingredients: Mr Black, Cherry Heering, dash of Fernet Branca, top with cherry cola, cherry and lemon twist garnish.
Available at The Blind Pig which is situated in the heart of Soho, this classic bar will have you feeling like you've waltzed into a scene of a Humphrey Bogart film with its wooden furniture and old fashioned decor.
The Blind Pig created this tasty number that's equally nostalgic – a boozy twist on a childhood favourite drink. It has a distinctive cherry flavour with a gentle bitter coffee finish – perfect for the discerning coffee drinker that likes to mix things up.
"A nice sipper that has lovely bitter tones which work perfectly with the cherry – it's like a grown up Dr. Pepper." 
Peg & Patriot- "Queen Bee"
Ingredients: Mr Black, Aylesbury duck vodka distilled with clotted cream, cachaça, honey and Absinthe stirred down.
Part of the suave Town Hall Hotel, the Peg & Patriot is an understated and chic bar that oozes class. Queen Bee is a delicate, aromatic, and creamy stir down drink.
A rich coffee and cream combination makes it a decadent experience for coffee aficionados. £10.
"This is typical, ambitious Peg & Patriot! Distilling cream into vodka gives the drinkthe creamy feel you would expect but without feeling any of the gluttony!"
7 Tales- "Black Coffey"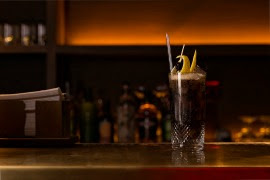 Ingredients: Mr Black, Nikka Coffey Malt, barley syrup, dash black sea salt
.
7 Tales is a bar that's the talk of the town. Based in the basement of Jason Atherton's Sosharu restaurant, it pays homage to all things cool and trendy in Tokyo.
Black Coffey is a rich, decadent digestif drink  – the perfect finish to a lively dinner party.
Alix Nardella from Mr Black says: "This one is a Japanese twist on a Manhattan; a really rich and boozy sipper. The barley and salt keeps you wanting more!"
Pollen Street Social- "Coff' Medicine"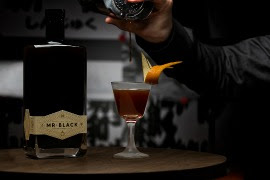 Ingredients: Mr Black, mescal, Campari, chilli & chocolate bitters, Orange twist and prescription garnish
The Michelin-starred Pollen Street Social is British chef Jason Atherton's flagship bar and restaurant. Celebrate Coffee Day in style with Coff' Medicine, with its smoky bitter taste combined with a sweet edge and a gentle dark chocolate finish – a sophisticated way to toast Coffee Day.
 

"A seductive and smoky number – the bitterness from Campari and smoky notes from the mescal compliment all the characteristics you find in Mr Black."
City Social- "Black to the Future"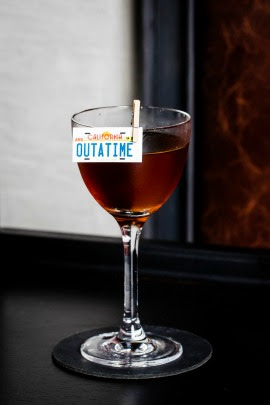 Ingredients: Mr Black, Aylesbury Duck vodka, dash of soy sauce, OUTATIME number plate garnish
City Social sits on floor 24 of Tower 42, the third tallest building in the City, just a stone's throw away from the Gherkin. Surrounded by stunning cityscape, one can toast the capital with this coffee cocktail in true style.
"Black to the Future has beautiful umami tones – the unexpected ingredients brings a wonderful twist to the drink, and it's not a bad view from up there either!"
More posts: