Top Tipples with Love Drinks
Feb 22nd, 2018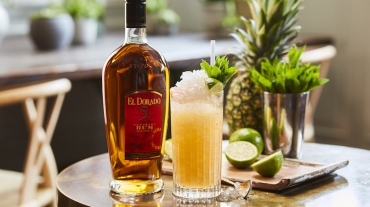 We all love a little tipple every now and again; it would be odd if we didn't, with a name like LOVE DRINKSand the business we're in.
We thought we'd sit a few members of our sales team down to see what drinks are currently tantalising their taste buds and where they are available so you too can enjoy them.
First up is Sinead Lowe, Sales Manager – North  "Oh, one of the tastiest drinks I've had recently is the Improved Clover Club which I spotted at Piccolino's in Alderley Edge.  For me, the venue is super special and it means I can people watch in the playground of the Cheshire set, which adds another level of extravagance!  The drink is a traditional classic, but with a modern take. The rose element gives it a decadent twist with an eastern rose vibe."
Where to find it:
Piccolino's across the country.
What you'll need to make it
30ml Gin
20ml Lanique
15ml Monin gomme
15ml Lemon juice
4 raspberries
1 egg white
How to make it:
Coupe / dry shake, then re-shake / rose petal garnish
What you need to know:
The Improved Clover Club is an elegant variation of the revered classic characterised by the addition of Lanique. The egg white is an essential component of this floral mixed drink.
Up next is the drink from Dean MacGregor, Account Manager for East London and El Dorado Rum Brand Ambassador.
No prizes for guessing which product from the portfolio Dean has chosen.  Yes, that's right, El Dorado, but this drink has been playing on his mind for some time.  Dean describes the Orange Sky as a drink that is "very classic and well balanced, with all the ingredients complimenting the rum which is still the star of the show."
Where to find it: Gilbert Scott, St Pancras Renaissance Hotel, Euston Rd, Kings Cross, London NW1 2AR
What you'll need:
40ml El Dorado 12 Year Old
20ml Amer Picon
25ml Maple syrup
25ml Fresh lime
35ml Freshly squeezed orange juice
How to make it:
Shake and double strain
Serve straight up
Garnish with orange twist/ twirl
Last but not least is Tom Warner's favourite drink of the month, The Island Fox by Be At One.
Tom is London Sales Manager and manages group accounts.  "I really enjoyed the Island Fox when I tried it recently. It's a really fresh and fragrant cocktail which uses Lanique amongst other ingredients. It's got the thumbs up from me."
Where to find it: Any of the 31 Be At One bars across the country
What you'll need to make it:
37.5ml Lanique
22.5ml Lime Juice
22.5ml Gin
30ml Grapefruit juice
7.5ml Sugar Syrup
Bar spoon of Orange Marmalade
How to make it:
Add all ingredients in shaker, double strain over cubed ice in empire wine glass and garnish with a wedge of pink grapefruit.
If you've had a drink, or made a drink using any of the brands that we distribute, please do let us know.  We'd love to share them with the rest of the world (well, almost!).
More posts: