Love Drinks Seeks Customer Development Manager East London
Jun 20th, 2019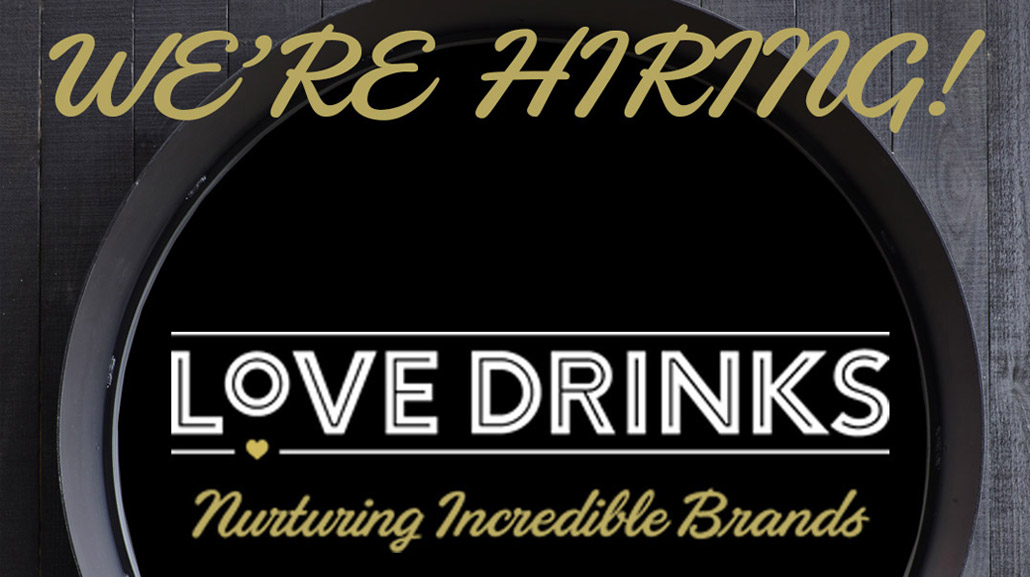 Love Drinks – Nurturing Incredible Brands
Customer Development Manager
Location:  East London
Job Type: Part Time (Opportunity to move to full time)
Salary Competitive
About the Role
We are looking for an amazing individual whose enthusiasm bowls us over! Our Customer Development Manager role will suit an individual who's is passionate for all things craft, with the determination to drive distribution, visibility and growth for the Love Drinks Portfolio. Must be results orientated, a good listener with a competitive spirit.
At Love Drinks we have a consultative approach to selling and the successful candidate will understand the importance of sustainable brand building in a cluttered market. The Love Drinks candidate will have on trade experience, knowledge of the key areas and have strong community relationships.
Reporting to the Managing Director this is a critical role where experience of sales skills is required to take Love Drinks forward. The successful candidate will be responsible for growing volume, distribution and profit within the independent free trade, regional groups and activating during key periods to deliver engaging customer experiences to generate footfall.
RESPONSIBILITIES
Using excellent communication and relationship building skills, successful candidates will be responsible for using their already demonstrable trade and sales experience to increase sales across both new and existing business.
Drive distribution, visibility and activation (DVA) to increase ROS for the Love Drinks portfolio.
Manage and grow an extensive and diverse account base. Develop strong and loyal relationships with key purchasing managers across the On and Off Trade.
Work alongside marketing and brand ambassadors to develop and execute marketing activities.
Seek new business opportunities within the channel to ensure growth across the portfolio.
Be confident in building customer account plans to deliver against agreed KPI's and targeted business growth.
Management of budgets to ensure all marketing and sales activity drives a positive ROI.
Deliver presentations which clearly identify category and market data and trends to influence decision making to benefit the customer and Love Drinks portfolio.
Work closely with RTM to ensure product availability for end users.
Support the wider team with national account callage, ensure attendance for brand ambassador events and brand owner visits.
Attend trade shows and industry events when required.
SKILLS
Knowledge of the drinks industry essential
Good understanding of the UK on trade
An unrivalled passion for selling premium products
Team player demonstrating collaboration and communication
A natural ability to build relationships with integrity.
Ability to support a high-performance team
Confident and persuasive communication style
A high achiever with a strong 'can do' attitude
Ability to make a difference and make it happen
Proactive and has the ability to rise to the challenge
Positive, resilient, self-starter
Organised and open to change
About Love Drinks:
Love Drinks is a sales and distribution agency based in the UK that represents 10 of the finest luxury drinks brands.
The company's reputation as a brand builder for some of the world's premium and niche spirits and craft beers, has been built on hard work, reputation and trust.  Those values remain just as important today and for the future.
At Love Drinks we operate in a very holistic way focusing on 3 core principles, Premiumization, Personalisation (trade or consumer) and supporting the Wellbeing. This means we only work with customer who want to challenge and make the industry better and more premium, give their team members or customer a better experience and genuinely care for their staff.  This gives a long-term ROI while ensuring we are making our industry a better place to operate in.
Since its inception, the company has seen double-digit growth in both turnover and profit.  Love Drinks is in the enviable position of being able to choose the drinks brands they want to work with; those who have a quality and truly differentiated product that will enthuse the drinks industry and consumers alike another reason why Love Drinks has the most focused and tailored portfolio in the industry.
Having a 100% single shareholder owned business means the company makes the right decisions for the business and its people in both short and long term.  This is a luxury that few other companies in the drinks industry have. Each voice and opinion within the company is valued and heard because Love Drinks' employs people who want to make a difference to the business.
Love Drinks' point of difference is the skill set of the people they employ. It's not about plugging a gap, it's about finding people who can fit into the business and adapt to the Love Drinks culture and ethos, in order to grow the business together.
Love Drinks also holds an Investors in People accreditation. IIP provides a best practice people management standard, offering accreditation to organisations that adhere to the Investors in People framework. The framework reflects the latest workplace trends, leading practices and employee conditions required to create outperforming teams.
 The Person:
Your career history to date will show evidence of a journey that demonstrates background, skills and behaviors similar to the below:
Strong sales and time management skills with an emphasis on developing superb and sustainable customer relationships. You'll be tenacious and resilient with great listening skills and the flexibility to respond creatively to customer needs.
Credible background within the drinks sector and experience of working with bars, wholesalers and specialist retailers.
Outstanding commercial acumen. You will be comfortable using your strong numeric and strategic skill set to understand customers and identify key value areas.
Exceptional communication skills. A highly developed influencing style and facilitative manner will enable you to engage effectively with customers to develop strong and productive relationships, and the trust necessary to explore new ways of working.
You'll thrive on the ability to take decisions and make things happen. The business is receptive to new ideas and responsive to customer demands. The right candidate will be able to work with autonomy, accountability and purpose to drive real change and deliver exceptional results.
Remuneration and Rewards:
Love Drinks place a real emphasis on developing their employees and you will be able to take advantage of mentoring and support to achieve your career goals as well as development opportunities.
The company aims to promote an inclusive and supportive working environment where no one person is bigger than the team. A good team spirit is evident as a result of the visibility of the senior team and interaction with staff at all levels. The company takes pride in achieving high levels of customer satisfaction recognizing it as vital for driving a profitable and successful business.
The Process:
Initial interviews will be conducted by Rachel Wright (Head of RTM) and a shortlist of second interviews will conducted by Samantha Burke.
Verification of sales performance is expected to be provided by the appropriate documentation. References will be taken up from candidates receiving an offer of employment.
Contact Details:
Rachel Wright rachel@lovedrinks.co.uk
More posts: