Bloody Shiraz Gin
Bloody Shiraz Gin is one of three seasonal gins made by Four Pillars and  is like nothing you've tasted before.
The home of Four Pillars is in the Yarra Valley, where their neighbours make some of the finest wines in the world.  So, they decided to combine Four Pillars Rare Dry Gin with some of the best Shiraz grapes in Australia to create their Bloody Shiraz Gin.  They do this by steeping Yarra Valley Shiraz grapes in gin for eight weeks. The fruit is destemmed but kept mainly as whole berries, and the tanks are kept cold and stirred daily. After a period of eight weeks the fruit is pressed before blending with more Rare Dry Gin.
The resultant gin is an incredibly rich, deep purple colour, which turns iridescent pink when mixed with tonic or soda.
Aromatically it has fresh pine needles, citrus and spice, and a clear peppery, dense raspberry character. The palate is lovely and sweet, with a long juniper and spice character on the finish. Unlike Sloe Gin, the alcohol is 37.8% (rather than <30%) so it packs a punch and is ideal in a range of cocktails.  The gin is unfiltered, will develop secondary fruit characters beyond two years and is best consumed within two years of vintage
---
Serving suggestions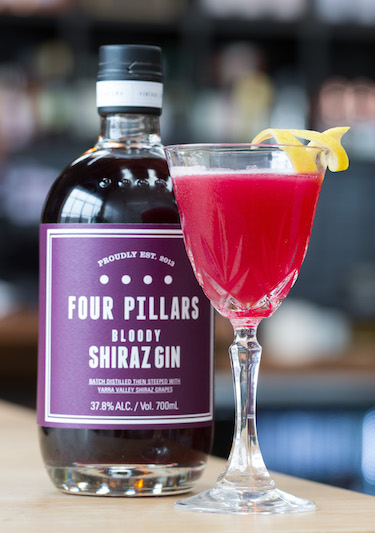 SIGNATURE DRINK
The Bloody Jasmine
Ingredients:
20ml Four Pillars Bloody Shiraz Gin
20ml Campari
20ml Dry Curacao (or any other orange liqueur, such as Cointreau)
20ml fresh lemon juice
1 dash of  Orange Bitters
Lemon twist for garnish
Method
Add ingredients into a cocktail shaker with ice. Shake and strain into a chilled coupette glass and garnish with a lemon twist
---
Download Brand Assets
---