Mr Kamm's British Gin
 Mr. Kamm's is a modern interpretation of a classic London Dry Gin using a colourful blend of 45 ingredients to enhance the flavours of traditional gin botanicals.
Fresh citrus yellows, herbaceous greens, sweet spiced ambers and fruity crimsons. The ingredients are very similar to British Aperitif, Kamm & Sons, but with a few additions. Botanicals include ginseng, fresh grapefruit, lemon and orange peels, apricot kernel, hibiscus, rosehip, blue butterfly pea and citra hops.
Mr. Kamm's is a barley-based gin made in a very small hand-beaten copper still in the traditional 'one-shot' method, meaning that instead of making a concentrated gin and blending that with more spirit, they use all of the spirit from the still as this gives a better, deeper, more rounded flavour this means they have a maximum capacity of just 80 bottles per day.
---
Serving suggestions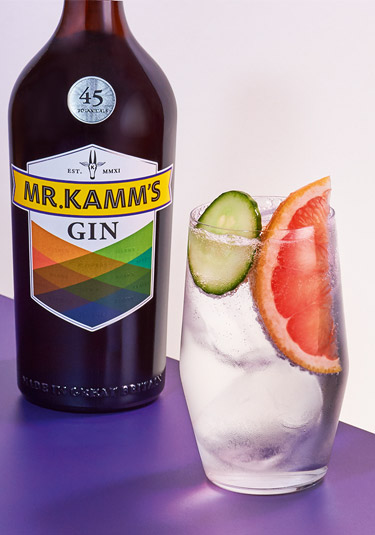 SIGNATURE DRINK
Mr Kamm's G&T
Ingredients:
50ml Kamm & Sons
100ml Fever-Tree Mediterranean Tonic
Method
Pour all ingredients over ice and garnish with a wedge of grapefruit and a cucumber slice
---
Download Brand Assets
---