Juniper Cask Gin
The original Juniper Cask Gin. Hernö Gin Distillery is the first distillery in the world to mature gin in casks made out of juniper wood. They have manufactured unique casks made of juniper wood only in cask size 39,25 litres. The gin is gently matured for 30 days before being bottled at 47%.
Hernö Juniper Cask Gin is intense, inviting and engaging. It has an herbal sweetness to start with followed by more intense juniper notes finishing with a long harmonious hint of citrus peel.
Hernö Juniper Cask Gin was released in London on the 9th of September 2013 and during 2014 awarded with a Gold medal from International Spirits and Wine Competition (IWSC). Master medals from the Global Gin Masters 2015 and 2016, Gold Outstanding from IWSC 2015 together with Contemporary Gin Trophy. Hernö is the only European gin distillery to receive this newly established award.
TASTING NOTES:
NOSE: Fresh woodiness and junipery pine with soft citrus blossoms.
Palate: A sublime thick texture with gentle dryness. A lot of green juniper upfront with herbal pepper, followed by a mild vanilla sweetness.
Finish: Aromatic citrus and floral notes of coriander before a long lingering finish of sappy juniper.
47% ABV, 50cl
---
Serving suggestions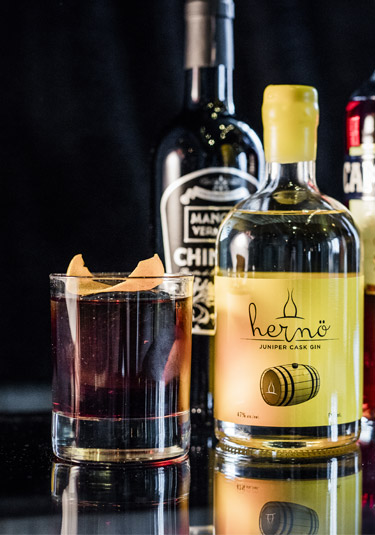 Ingredients:
20ml Hernö Juniper Cask Gin
20ml Sweet Vermouth
20ml Campari
Method
Stir all ingredients together in a mixing glass and strain into an old fashioned whisky glass filled with ice. Garnish with an orange zest.
---
Download Brand Assets
---