London Dry Gin
A round and smooth London dry gin, with a juniper character, fresh citrus notes and a floral complexity which makes the gin very enjoyable on its own.
Using eight carefully selected botanicals from around the world, all are certified organic. Juniper berries from Hungary, Coriander seeds from Bulgaria, Hand-peeled Lemon, Lingon berries from Sweden, Meadowsweet from the United Kingdom, Black Pepper from India, Cassia from Indonesia and fresh Vanilla from Madagascar.
Hernö Gin was released on the 1st of December 2012. During the spring of 2013 it was entered at the Global Gin Masters for the first time and received two Gold medals. Today Hernö Gin is the most awarded gin in Europe 2103–2017 and was honoured with the World's best Gin 2017.
TASTING NOTES:
NOSE: Round juniper character, fresh citrus notes and a floral complexity
Palate: Rich and lightly oily texture. Fresh, crunchy green, spicy notes of coriander. A mellow sweetness combined with vanilla and cassia bark.
Finish: Long lasting citrus and juniper with a hint of black pepper.
40.5% ABV, 50cl
---
Serving suggestions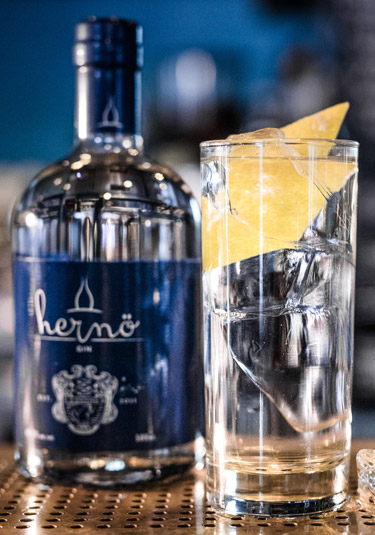 SIGNATURE DRINK
The World's Best Gin & Tonic
Ingredients:
50ml Hernö Gin
100ml Tonic
Method
Take a highball glass and fill the whole glass with ice, pour in Hernö Gin, top with Tonic water and garnish with a lemon zest, to be a little more creative, add black pepper to really get the herbal note in Hernö Gin going.
---
Download Brand Assets
---