Old Tom Gin
Hernö Old Tom Gin is made from the same distilled gin as Hernö Gin and Hernö Navy Strength Gin except Hernö Old Tom Gin has an extra amount of Meadowsweet in the distillation and after diluting it down to 43%, a touch of honey is added.  The sweetening lifts the floral notes, releases an array of juniper and makes it even smoother.
Old Tom Gin originates from 18th century England. A black wooden cat placed outside pubs was used both to buy and serve the illegal beverage. According to the legend, when a penny was placed in the cat's mouth the gin was served through a tube hidden in one of the paws.
Hernö Old Tom Gin was released on the 20th of September 2014. Since then it has received a total of four Master medals at the Global Gin Masters, a Gold Outstanding at the International Wine and Spirits Competition (IWSC) 2015 and also World's Best Gin at the World Gin Awards.
TASTING NOTES:
NOSE: Full-bodied with woody spice. Followed by bright, juicy, juniper and floral notes.
Palate: Super-smooth texture with a light sweetness and botanical notes. An array of juniper, green and crispy, followed by notes of pine flowers.
Finish: A floral sweetness combined with woody spice and long lasting juniper.
43% ABV, 50cl
---
Serving suggestions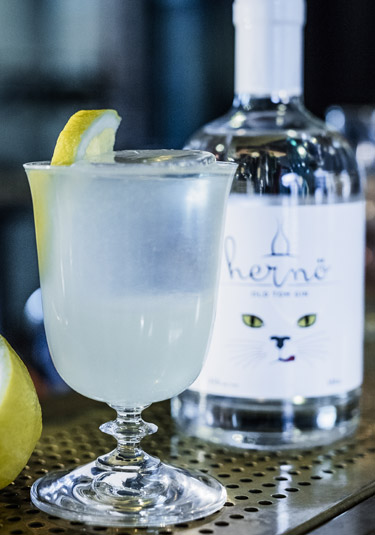 SIGNATURE DRINK
Tom Collins
Ingredients:
50ml Hernö Old Tom Gin
30ml fresh lemon juice
20ml simple syrup
Soda water to top
Method
Add the Hernö Old Tom Gin, fresh lemon juice and simple syrup into a highball glass, fill the whole glass with ice, top with soda and give it a nice quick stir, garnish with a lemon wedge and a straw.
---
Download Brand Assets
---