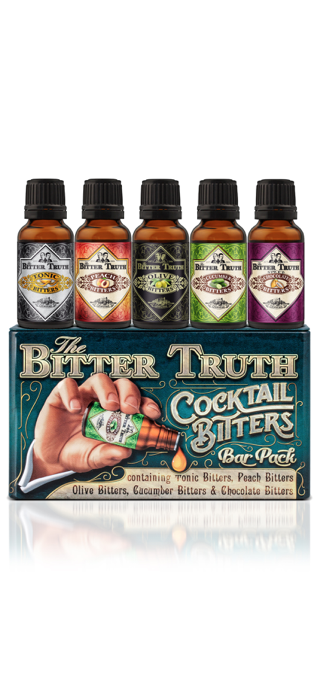 Bar Pack
To celebrate 10 years of making bitters and liqueurs, the team at The Bitter Truth have created a new version of The Traveler's Tin, The Bitter Truth Bar Pack.
Like the original, the Bitter Truth Bar Pack comes in an embossed tin and contains 5 x 20ml bottles of bitters along with a handy recipe card of what bitters to use in what drinks.  The pack contains five different flavours to that of the Travelers Tin including one completely new flavour, Olive.
As you'd expect, this briny, Mediterranean delight makes a Martini like you've never tasted before.  Simply add 60ml of Gin or Vodka, the choice is yours, 15ml of Dry Vermouth and two to three dashes of the Olive Bitters – stir with ice and strain into a cocktail glass.  And there you have your Dirty Martini.
The other bitters flavours include; Tonic, Peach, Cucumber and Chocolate.